In the last year, YouTube creator Ryan Trahan has survived the world's loudest room, spent 100 days in realistic Minecraft, and turned $.01 into a house in 1 week.
But this June, the challenge YouTuber with 9 million subscribers wanted to take on a daunting task that would span from coast to coast. Starting in Los Angeles with a single penny, Ryan Trahan's penny challenge documented his cross-country trip to deliver that cent to Jimmy Donaldson (creator of the MrBeast YouTube Channel with 97 million subscribers) in North Carolina. All while raising money for Feeding America.
The series has been an enormous success, garnering 196 million views in 30 days and bringing the creator to 9.91 million total subscribers at time of press (up from 7.43 million on June 1st).
So just why has it been such a runaway success? Well, there is a scene on day 10 of the challenge that captures its appeal.
The Great Reset
Ryan started off day 10 in Denver with $39.39, a total he had made primarily from selling water bottles, telling jokes on the Las Vegas Strip, and delivering Uber Eats orders. Throughout the day he made a variety of deliveries, including candy to friends he had made from the rental car center. There was no major plot twists throughout the day, nor was the video particularly fast paced. But then things take a turn.
"Oh my gosh. Oh my gosh. Oh my gosh."
Ryan Trahan checks his phone at the end of his tenth day of the journey and sees that he received a $50,000 donation for Feeding America. This information triggers an instant internal conflict that emanates from the screen.
On the one hand, he was thrilled. A single $50k donation means 500,000 meals are donated to an incredible charity. At the time totaling $176,449 raised for Feeding America in 10 days.
On the other hand, it made his goal of delivering the sacred penny to MrBeast significantly more difficult. Per the rules he set forth in this challenge, a $50,000 donation resets the survival money he has earned on his journey back to $0.01.
$1,000 gets your name at the end of each video in the series
$5,000 gets you a verbal thank you
But $50,000 activates "The Great Reset" which causes him to reset his survival money back down to $0.01
Challenge Meets Charity
It's fitting that MrBeast is the destination in this video, as the megastar has pioneered many of the YouTube challenge series we see today (his video "I Spent 50 Hours Buried Alive" has over 179 million views).
Beyond daunting challenges, MrBeast is also credited as one of the first "YouTube philanthropists." After giving away 100% of his first $10,000 brand deal check, he recently escalated to giving away houses for a dollar and a Willy Wonka chocolate factory to a recent challenge winner.
But it doesn't stop there. MrBeast has raised money to plant 23 million trees and removed 32 million pounds of trash from the ocean. He also operates Beast Philanthropy, a food pantry with a mobile food distribution network that addresses food insecurity in remote and under-served food deserts. The organization has personally delivered over 1.2 million meals and fed over 111,000 individuals.
Ryan's new "I Survived on $0.01 for 30 Days" series is an amalgamation of these challenge themes. Throughout the month of June 2022, he posted vlogs every day as the viewers followed along his cross-country journey—watching him make trades, get creative, and rely on the kindness of the people he met along the way.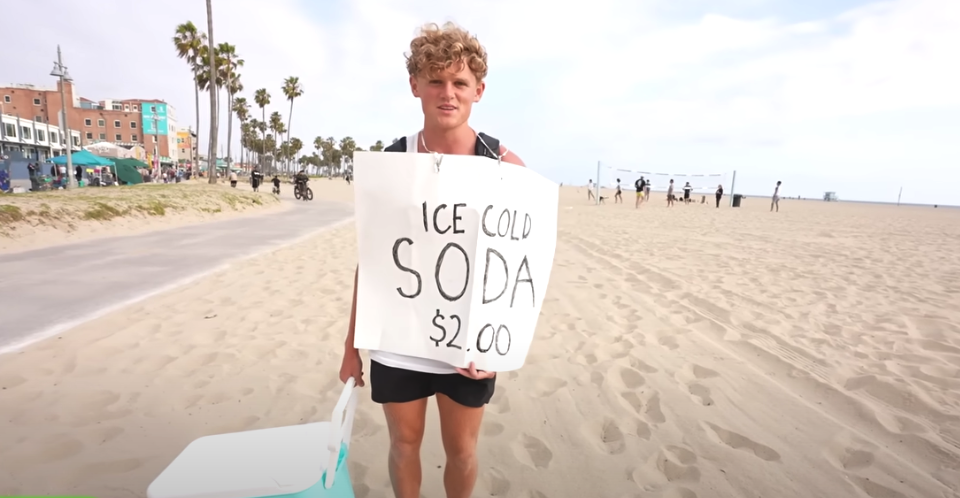 "This video series is a redefining moment for the vlog format on YouTube. It's a budget MrBeast-style challenge meets a Casey Neistat-style vlog, with Emma Chamberlain-like vulnerability," wrote creator economy analysts Colin & Samir in their Publish Press newsletter.
In 30 days, Ryan Trahan's penny challenge series earned nearly 200 million views and raised over $1.4 million for Feeding America. And yes, (spoiler alert) he did deliver on his promise and deliver that penny to MrBeast in Greenville (aka Beastville), NC where Jimmy was waiting for him with a celebratory finish line and a generous final donation of his own.
Does Focusing Less on Numbers Lead to Bigger Numbers?
While the challenge-meets-charity format is not entirely new to YouTube, Ryan added a layer of vulnerability and authenticity that unlocked exceptional results.
In an interview on the Colin & Samir Show on June 6, Ryan shared how his content strategy has shifted. "I feel like in the past I was not even acknowledging the idea of what the viewer wanted and even what I wanted. It was almost like: okay, I run a YouTube channel and I should do this because the people at the top are doing it. Meaning, retention is a primary focus and [I was] exploiting click through rate in any way possible to get as many views as possible."
By putting his fans and the viewers first in this latest series, Ryan established a genuine connection that got people invested in his story. Fittingly, MrBeast touched on this at his VidCon 2022 panel, urging creators to focus on "audience over algorithm."
This major shift is "redefining what it means to optimize content for YouTube's algorithm," said Mateo Price, Director of YouTube Development at Jellysmack. Mateo describes the current YouTube ecosystem for many top creators as "highly process-driven around better retention and click-through rates." This strategy may work for some audiences, but it is not not a catch-all for all content types and creators.
Ryan echoes this sentiment later in his Colin & Samir interview, eschewing the high-end production that many top YouTubers have shifted toward. He said, "I made the production value lower, I made it more about myself and like all of the weaknesses that I have and everything that makes me human."
The growth results speak for themselves. Between June 6-20, Ryan's YouTube channel skyrocketed by about 1.5 million subscribers.

According to Mateo, this rapid subscriber growth can be attributed to two factors:
1. Habitual viewing: Every morning for the past 20 days, Ryan and his team have delivered. Ryan acknowledges that his videos are not movie-quality. However, he more than makes up for it with entertainment mixed with humor and a dash of personal connection. Once a viewer has invested and enjoyed the 15 minute episode, they want to know what happens next and are more likely to click on the following video. There is no opportunity for that enjoyment to slip the audience's mind because there is such a short time between updates.
2. A counter-intuitive retention boost. While Ryan Trahan's penny challenge has avoided hyper-optimization of retention, there is still a strong incentive to watch to the end of the video. He teases the possibility of a "Great Reset" and his hard-earned cash being wiped away multiple times per episode with a $50,000 donation. The catch? He only checks donations at the end of the video. The audience only gets the payoff if they watch until the end.
And the bonus third factor? Wholesomeness. Ryan himself has boundless optimism in his journey, and the people he interacts with consistently have reacted with generosity from $15 Uber Eats tips to paying $20 for a single bottle of water he was selling to raise survival funds. In a conversation with his dad over McDonald's Iced Coffees on Day 21, Ryan said, "I've also met so many people off camera that have been equally inspiring but you can only put so many clips in the video. It's crazy that all around us there are good people. I feel like this series has taught me to try and talk to more people."
A Penny for Final Thoughts
Perhaps the lasting impact from this series though will be how other top creators react. MrBeast-style hyper-optimized content full of giveaways, twists, and turns produced at a slower pace is dominating the YouTube landscape and has propped up many creators' rapid rise.
Will casual vlogs with a clear end game like this series break through hyper-optimized algorithm videos? This author's two cents (or one cent in Ryan's case) is that it's possible, but only if consistency, creativity, and authenticity come to the forefront.
Main image credit: Ryan Trahan, YouTube