When it comes to honoring and recognizing the best in the online video entertainment space, it's hard to top the prestige and popularity of the YouTube Streamy Awards. Dubbed "the Oscars of the web" by Vanity Fair, the yearly award show celebrates excellence in online video and the creators behind it in over 45 categories. Consider it the creator awards event of the year. Millions of people tune in to catch the action and accolades, and the 2022 Streamy Awards are shaping up to be the biggest yet.
Plus, creators can enter for free since we're covering the submission fees.
The awards are massive and broken into five major parent categories: Overall Awards (Creator of the Year, Show of the Year, etc.), Individual Awards (Breakout Creator, Crossover, etc.), Show Awards (Live Show, Podcast, etc.), Subject Awards (Animated, Beauty, etc.), and Craft Awards (Editing, Visual and Special Effects, etc.).
There are also two separate awards that recognize socially responsible and conscious efforts. These are The Streamys Social Good Awards, which highlight people and companies who use social media to generate meaningful impact within their communities, and The Streamys Brand Awards, which focus on brand innovation.
The Streamys are an enormous undertaking and one the creator economy looks forward to annually. In fact, USA Today considered the ceremony to be "cooler than the Oscars," and who are we to argue with that?
Now in its 12th year, the Streamys truly are the trusted award show for recognizing top digital talent across all genres, messages, and innovative brand campaigns.
Produced by MRC Live & Alternative and Tubefilter and exclusively broadcast by YouTube, the annual ceremony was forced to innovate its format last year and took the show on the road, handing out awards to creators on an ultra-glam double decker bus (if you haven't seen last year's show, you can catch YouTube megastar Larray and his best friend Issa Twaimz hosting it here).
But let's back up and set the scene to better understand how creators and brands are actually nominated.
Creators used to have to pay to submit their work to even be considered for a Streamy, but for the second year in a row, Jellysmack is covering the submission fee, which is significant in a number of ways. "We believe that creators deserve recognition for their hard work and we want to see the most talented ideas come forward," said Amber Tarshis, Chief Marketing Officer at Jellysmack "That's why we chose to remove the barrier for entry so that everyone could be considered, and everyone's ideas could be seen."
Entries are now open for the 2022 Streamy Awards, so get those submissions in. If last year's winners are any indication, the noms and nods are going to be properly stacked with the best of the best.
Let's take a look at last year's winners. In 2021, Jellysmack Creator Partners grabbed much of the gold:
Entrepreneur and philanthropist Jimmy Donaldson aka MrBeast took home the top award Creator of the Year
Yes Theory won First Person Creator
Bailey Sarian grabbed two awards for Podcast and Beauty
Deestroying won for Sports
Mrwhosetheboss won for Technology
Megastar Bella Poarch nabbed Breakout Creator while Addison Rae grabbed the award for Lifestyle. For a full list of all the 2021 all Streamy Awards winners, click here.)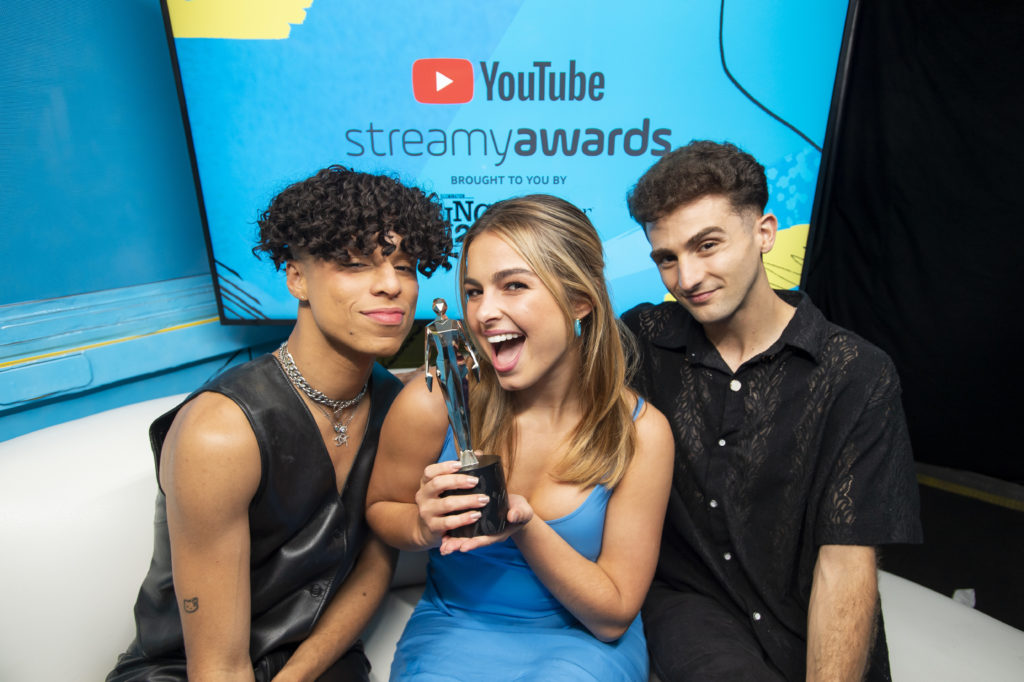 Be sure to bookmark this page because we'll be updating this article as nominations come out and winners are announced for the 2022 Streamy Awards. If you're a creator and haven't yet entered yourself, it's your turn to apply.
Don't forget: Jellysmack is footing the bill, so there's no reason not to do it.